Golf can be a geek's or a jock's game. It's all about precision and consistency. Golf enforces discipline like no other game. It makes well-rounded golfers out of Frodos who think they are heading to Mordor and not the hole. You need to leave your aggression at the clubhouse and head out with the cold math and a facade of calm. So it's not surprising that golf has a certain allure for people of all ages.
You get to be more than you are, when playing it. Your attitude can take you places on the course (literally!) but the other important consideration is a set of golf clubs, specifically your first set. With a lot of brands and advice on the market, the whole process of picking the right clubs can be a little intimidating.
Given the elitist aura around the game, it's natural to be inclined towards shelling out an outrageous amount, buying the best golf clubs for beginners there is: Ping, Titleist, Callaway, TaylorMade, Nike, you name it. The focus must be on finding the right equipment that would translate your raw talent into awe-inspiring pro skills. The weapon grade brands can be bought later, once you get the lay of the land that is golf.
Assessing your interest and ability: 
If you are just a sporadic golfer or a person who jumps from one hobby to another pretty quickly, then you don't need to put in a lot of research. Casual golfers can go for discounted complete golf club sets that come with bag included. It's everything you need to get yourself started. However if you are as serious about golf as Lannisters are about paying their debts, then read on.
Golf club sets: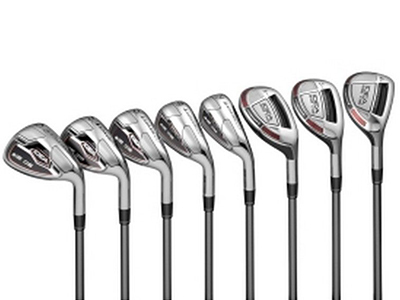 As per USGA rules, you can carry a maximum of 14 clubs. A standard set consists of:
1 Driver
2 Fairway woods
1 Hybrid
7 Irons
2 Wedges
1 Putter
A newbie does not require all the clubs. You can hit the course with:
1 Driver
1 Sand Wedge
1 Putter
1 Fairway wood or Hybrid
1 Pitching wedge
1 6-iron and 1 8-iron
You can buy sturdy drivers for $75 and putters for around the same range online to start off your set. Hybrid clubs are more forgiving and well suited for beginners' needs.  Don't hesitate to get out there are ask for advice from the local golf pro or golf store professionals.  Stick to your budget and avoid the temptation of flashy clubs unless you can afford them.
Try and buy:
It is important to understand that to play a good round, the coordination between the golfer and his/her club must be seamless. The clubs are your closest buddy on the course. So the clubs you choose must 'feel' right. The concept is more thoroughly explained by swingweight. The club must not feel too heavy or too light or else it might adversely affect your swing. You can even borrow and try out your friends' clubs to get a fair idea.
Clubfitting:
If you are a perfectionist, you can invest in clubfitting to choose the perfect fit. A teaching pro or custom fit specialist will map your height, weight, swingspeed and swingstyle to the correct club size.
Shaft considerations:
The shafts for driver and fairway woods are made mostly of graphite, whereas irons have an option between steel and graphite. Graphite is more yielding while steel is stiff. So graphite clubs allow lighter players to swing with more speed. Steel shafts are better for strong players with higher swingspeeds.
Clubhead size:  
Size definitely matters with clubhead. Beginners would do well to go with the perimeter weighted 'heel and toe' design so as to get more contact area between the clubhead and the ball. This also has a profound effect on accuracy and shot distance.
Difficult as it is to tame, golf decisions are not be taken over a random morning coffee. Some research along with advice from experts would be indispensable on this front.  If you consider yourself a regular Tiger Woods and are ready to take on the big leagues, then every penny spent on the spot-on club choice is a penny not wasted.