Hole in one
You probably hear this question often: "What do you want to be when you grow up?" If you are lucky, you know the answer at a young age. Count Tiger Woods as one of the lucky ones.
When he was barely six months old, Tiger picked up his first golf club. His father, Earl Woods, once said in an interview, "Tiger knew how to swing a club before he could walk." By age two, he was so impressive that he appeared on television with the famed comedian Bob Hope and showed him a bit about putting.
Encouraged and coached by his father, Woods practiced diligently as he grew up. In 1991, when he was only 15, he won the first of three straight U.S. Junior golf championships. Three years later, at age 18, he became the first African American to win the U.S. Amateur Golf Championship. He won the title again in 1995, with a spectacular approach on the final hole. Using his 8-iron, Woods hit a 140-yard shot that landed just 18 inches from the cup. He then tapped in his putt to clinch the victory. The following year, he won an unprecedented third straight U.S. Amateur title, and Sports Illustrated magazine named Woods its "Sportsman of the Year."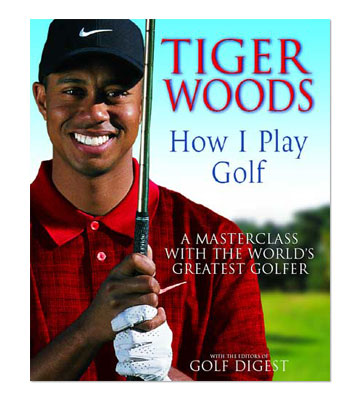 At age 20, having accomplished all his amateur goals, Woods began to play in the "big leagues" of golf, the Professional Golfers' Association (PGA) tour. He quickly became a force, winning the prestigious Masters Tournament in 1997 when he was still only 21. Today, Woods is the most famous athlete in American sport, the subject of dozens of books, hundreds of magazine cover stories, and his own Web site, www.tigerwoods.com. What most sports fans may not know about him is his real name. Just for the record, it is Eldrick Woods. They also may not know that his mother is Asian American.
Woods has authored his own book on the sport, How I Play Golf. And he wrote the foreword for the book Uneven Lies: The Heroic Story of African-Americans in Golf, which tells how African Americans have overcome discrimination on the links. It was not until 1961 that the PGA Tour lifted its "whites-only" rule. The man who most helped make this happen was a golfer named Charlie Sifford. While Sifford was not the first black to compete in a PGA Tour event or the first black to win a PGA event, he became the first full-time African American on the PGA Tour, enduring racial slurs and insults.
Sifford's entry onto the PGA Tour in 1961 was not the end of discrimination in golf. It was not until April 1975, eight months before Tiger Woods was born, that African Americans were allowed to play at the Augusta National Golf Club, the site of the Masters Tournament. Until Lee Elder competed that year, they had been permitted to serve only as caddies at Augusta.
Like Jackie Robinson and Larry Doby in baseball, Sifford and Elder paved the way for other men of color in golf, including Jim Thorpe, who played on the PGA Tour from 1976-98 and has since starred on the Senior PGA Tour; current star Vijay Singh, who won nine PGA Tour events in 2004; and, of course, Tiger Woods, who at age 29 has become an inspiration to boys and girls alike who otherwise might not have been encouraged to play golf.